| | |
| --- | --- |
| | You can find a sample repo for deploying to Google Cloud with CloudBees CodeShip Pro on Github here. |
Google Container Engine
To deploy to Google Container Engine and Google Container Registry, you will need to create a container that can authenticate with your Google Account and another to generate authentication for pushing and pulling images to and from Google Container Registry.
Authentication
Create Service Account
For authenticating with the Google Cloud Platform we're going to create a Service account inside your Google Cloud account management.
Go to the GCP console, select your project and go to APIs & auth → Credentials: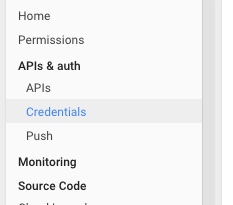 Next, click Add credentials and add a Service account. Then, select the JSON download option when prompted on the next page.
Encrypting Account Credentials
Now you will need to create a new file to store your account credentials in, in the form of environment variables. You will then encrypt this file and save it in your repository to be used during your builds.
Your new environment variables file will container the following:
GOOGLE_AUTH_JSON=...
GOOGLE_AUTH_EMAIL=...
GOOGLE_PROJECT_ID=...
GOOGLE_AUTH_JSON should be populated with the account credential string you received in the JSON file you downloaded earlier. Note that you will need to remove all newlines from the file. On Linux and macOS you can use tr '\n' ' ' < your_file_name to get the line and copy it back into the file.

GOOGLE_AUTH_EMAIL should be populated with the account email address that you can find on the credentials page in the Service accounts section. Note that it has to be from the Service account we just created.

GOOGLE_PROJECT_ID should be populated with the value found on the Dashboard of your project in the Google developer console.
| | |
| --- | --- |
| | Be sure to put this unencrypted env file into .gitignore so its never committed, or delete it altogether following encryption. |
jet encrypt your_env_file your_env_file.encrypted
CodeShip Public Key
Some Google Cloud services will require that you add your CodeShip public key for authentication purposes.
Note that Google may fail authentication if you do not add the Google Cloud user the key is for to the end of the key. For example, if the Google Cloud user is deploy@CodeShip, you will want to add deploy@CodeShip to the end of the SSH key itself, otherwise Google will not load the key for the user appropriately.
Other Google Cloud Services
If you are looking to use other Google Cloud services, we maintain specific documentation for using the Google Cloud CLI for all other deployments.